A Farm Rich In Shenandoah Valley History

Peter Gartner/Cortner/Gortner House – The Settlers
This log house, located 100 ft. northeast of the Samuel Myers house, is one of the oldest known dwellings along Holman's Creek. Peter Gartner from Germany was living there by 1735 and was the first person granted legal possession of the farm in 1750. He died in 1758 and it eventually became the property of Samuel Myers.
It is said that in 1746 Thomas Lewis and Peter Jefferson, (Thomas Jefferson's father), camped here while surveying the Fairfax Line. The Fairfax line runs between the headwaters of the Potomac and Rappahannock rivers and forms the western boundary of the 1649 land grant from King Charles II of England to some loyal friends in Virginia.
This one-room log house with a dirt floor and loft was built on rocks to guard against rising water and was near a spring to minimize the threat of Indian raids while carrying water. At night, livestock, which played an extremely important role in the family's survival, was brought into the cabin for protection from predators and Indians, while the family slept in the loft. The chimney and foundation remain.

Samuel Myers House – Tragedies
The left half of this house was built in 1750 by Peter Gartner using hand-hewn yellow pine logs. It had a large room upstairs and down with an end fireplace. The right half made of sawed logs was added in 1803 by Samuel Myers. The fireplace was remodeled and opens into opposite rooms and two downstairs rooms were added.

This house was one of four in the area used for Brethren worship by the German Baptist or Society of Tunkers until Flat Rock Church was built in 1841. When services were held every sixteen weeks, a hinged board partition between two rooms was fastened to ceiling joists to make one large room. The remains of an unusually large bake oven were recently discovered in front of the house. As was customary, women of the church probably gathered here on the Saturday before services were held, to bake for the Sunday meal enjoyed after worship. The host family was also expected to provide for the guest's horses.

The wooden door separating the kitchen from the meeting room is unique. The top half displays a cross while the bottom represents an open Bible. On the reverse side, diagonal boards are stamped with a Dutch Sun Wheel hex sign, a symbol of good health and good crops.

These Pennsylvania Dutch were a superstitious people. They believed the devil couldn't catch a person in a house with a round corner. As such, the cellar has a round corner made of hand-cut limestone as does the main barn.

In 1902 J.W. Zirkle, a prominent merchant and my great grandfather, bought the house and sold it to his son, Melvin Zirkle Sr. in 1921. In 1997 I bought the farm to continue the family tradition.


Lightning Strikes

On August 26, 1826 a clear day, a loud clap of thunder erupted without warning. A lightning bolt struck as the last wagon of hay was being loaded for the season. Samuel Myers' oldest son, his son's brother-in-law, and part of the four-horse team were killed. A hired girl hand raking hay was also struck. She was carried to the house for dead but survived.

This tragedy occurred between the lane entering the farm and the creek. Depressions in the ground can still be seen where the horses are buried.



Minnie Weatherholtz's Murder

On the morning of February 4, 1896, two young domestics went to the barn to milk. Hannah Neff left the kitchen followed by Minnie Weatherholtz. Minnie was singing and holding hands with her five-year old son, Bud, as they walked down the 200-foot
path through the garden.
Hannah was startled by a gunshot as she reached the barnyard gate. Then she saw Minnie, three steps behind her, fall face down. Smoke came from the lower window of the hay shed at the barn.
Bud was standing beside his mother who had been shot in the head. Her starched sunbonnet was blown several feet from her body. Bud begged Hannah to help his mamma get up, but 20-year old Minnie, a mother of two and pregnant with her third child, died instantly.
Peter Myers had gone to the barn five minutes earlier. He was in the feed room when he heard a shot, a plank split, someone jump from the haymow to the barn floor, and hinges squeak. The murderer, (believed to be Elmer Weatherholtz, Minnie's husband), fled the barn, ran through two fields and disappeared into the woods.
Upon inspection, hay had been pushed away from the window to provide a clear view of the path. Apparently Elmer had fallen through the mow and used the gun to stop his fall. The 12-gauge shotgun was found hidden in the haystack with a broken stock.
Elmer had been jailed several times prior for family cruelty, threatening to cut his wife's throat, beating his wife, and shooting at his mother-in-law with intent to kill. A posse was formed offering $400 for his capture (more than a man's annual salary).
On July 2, 1896 he was captured sleeping near a railroad after a night of drinking in Harrisonburg bars. He was tried for second-degree murder and acquitted. After surviving a lynching attempt by 40 men, he was tried for attempted murder of his mother-in-law and received a five-year sentence. Oddly enough, Elmer was acquitted of killing his wife in cold-blooded murder, but was jailed for not killing his mother-in-law. Why? Some say she was carrying someone else's unborn child, which in the 1800s was unheard of. Perhaps we'll never know the motive.
In 1897 Elmer died in prison from drinking wood alcohol used in finishing shoes in the shoe shop where he worked…..or did he? Some say Elmer's uncle, Dr. Charles Hall, used influence and money to get him out of jail and that his death was staged. A death certificate was signed by a doctor but there is no burial record. Some say he returned to Shenandoah County and lived in a shack in the woods where relatives brought him staples and he later moved to Ohio and met his grandchildren. Several years ago, family members wanted an answer to this century-old mystery. Thinking that perhaps Elmer was buried beside Minnie in an unmarked grave, a local judge permitted Minnie's grave to be opened. No one else is buried there. So, where is Elmer? The mystery continues.

Minnie's Ghost
By tradition, farm hands were always fed after a long day's work. One evening a thrashing hand was eating supper with the Melvin Zirkle Sr. family. The hand insisted he heard someone walk across a heavy iron plate at the end of the porch. The plate rested on uneven ground and rocked when stepped upon.
Everyone at the table said no one was there…..just Minnie. He restated someone was there and everyone repeated no one was there. He went to the door when he next heard the sound, saw no one, ran out of the yard, left his work and dinner unfinished, and never returned.
The house is still said to be haunted. My grandmother never spent a night in the house without a light on even though Minnie was a harmless spirit. Minnie was often heard in the still of the night walking down steps, one at a time.


Peter Myers House – The Civil War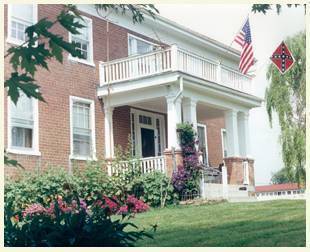 This square Greek Revival-style brick house was built about 1860. The house was sold to Daniel Wine in 1901, to Melvin Zirkle Sr. in 1964, and to me in 1997.
The walls are three bricks thick. Two stories above an English basement, the house has four rooms and a central hall on each floor, and a fireplace in all rooms but one. Floors are yellow pine and the woodwork is simple with a different design in each room.
Rooms have broad wainscoting and rail pegs for holding pictures or clothing. A simple white rail, forming a porch above it, tops the one-story pillared front porch. Beneath the porch is a brick floor with a door into the basement. In inclement weather, carriages were backed under the porch so riders could enter the house with ease.


The Burning
In 1864 the hamlet of Moore's Store, which is ½ mile south, slept quietly while General Phillip Sheridan's troops, called the "barn burners", under the direct command of George Armstrong Custer, descended upon it. Every building and house on the Joseph Moore farm was burned because he was a slaveholder and a wealthy Southerner. The Union Army left a path of destruction as it marched northward on a mission to seize and/or destroy any grain, livestock or food that could support the Confederates.
Next destroyed was the Harpine Mill in Harpinetown followed by the Peter Myers' barn on my farm. It sat directly in front of this house near the creek. The house was spared and the occupants were unharmed since all able-bodied men were away at war, but the heat from the burning barn and livestock was so intense that the windowpanes became too hot to touch. The original barn's limestone foundation is still visible.
Next to be burned was Peter Myer's mill only an 1/8 of a mile north. Six gristmills along Holman's Creek were destroyed that day. The only mill spared during "the burning" was the Andrew Zirkle Mill built before 1760, ¼ mile away, also owned by Peter Myers.
The miller, Samuel Hockman, seeing nearby flames, quickly climbed to the roof and hoisted a Union flag on the peak. He then ran to meet a Union officer upstream and stated he was a Union sympathizer. This action saved the mill but he lost favor with the locals due to his Union sympathies. Being the only mill now in operation in the area, Hockman refused to offer credit to destitute residents. When they asked "how shall we feed our families" he replied "you will have to bake them cakes". After the war when mills were rebuilt, many locals, remembering Hockman's past deeds, refused to patronize his mill and he suffered financially. When Hockman asked locals "what am I going to do" one farmer replied "you will have to bake cakes".
Shenandoah Valley Simmentals – The Next Chapter
My Dad



This farm has withstood the test of time. It's rich in Indian artifacts and early American culture. It survived the Civil War and Great Depression, and with the efforts of Blair, Maxine and Lisa Zirkle, the tradition of farming continues.
It has evolved from a self-sufficient early Appalachian family farm, to an apple/peach orchard, to range turkeys, a chicken grow-out, a dairy, a commercial cattle operation, and now to a nationally-known Simmental seedstock operation.
Blair and Billy Zirkle, brothers, brought the first purebred Simmental bull into the Shenandoah Valley in the mid 1970s. Caesar, from the King Ranch in Texas, was bred to commercial cows to develop a purebred herd. In 1976 I began raising Simmentals.
Many folks struggle to decide what they want to do with their lives. I never had to. I always wanted to farm. I remember so well the day I got my first heifer…a Simmental! My father gave me an orphan calf and I couldn't have been happier because Daisy was the start of my herd! Forty years later, we're still raising these amazing cattle.
Through the years there have been many fads and changes in the breed, but through it all, we've remained focused on breeding practical, predictable and profitable cattle. Our cattle have received many awards from the American Simmental Association, exhibitions and bull test stations, but the biggest award is our many repeat customers.

The Legacy Continues
We respect and honor the rich heritage of this farm and the hard work of those who traveled this path before us. We strive to keep the old ways of life alive by maintaining family traditions and growing heirloom vegetables, fruits, and flowers similar to those that may have been grown on this farm in days gone by.
In 2002 the Samuel Myers farm was designated a Century Farm for being owned by the same family for 100 continuous years. And the farm is an integral part of the Forestville Historic District as designated by the U.S. Department of the Interior and the Virginia Department of Historic Resources.
We are proud to be stewards of the land and livestock on this beautiful history property. We've been truly blessed.
References:
• A Little Mystery, Don Silvius, 2000.
• Old Virginia Houses-Shenandoah, Emmie Ferguson Farrar and Emilee Hines, 1976.
• Life Along Holman's Creek, J. Floyd Wine, 1982.
• The Burning, Sheridan in the Shenandoah Valley, John L. Heatwole, 1998.